Become a Member of the RightsTech Project
Members of the RightsTech Project become part of a unique, cross-industry community made up of creators, media rights owners, technology developers, investors, and entrepreneurs working to find innovative solutions to the challenges of managing and monetizing copyrights on digital platforms. Our groundbreaking conferences and networking events bring together professionals from across all sectors of the media industry, including music, film and video, photography, visual arts, publishing, video games and more, to connect, share ideas, and learn from each other's experiences.
Three tiers of membership allow companies to join the RightsTech community at different levels according to their degree of interest, executive availability, and budget. Individual memberships are also available.
Membership Benefits
Membership includes:
Community
The RightsTech community is built around the RightsTech.com website and e-newsletter, a members-only discussion forum, plus meetups, networking events, and other opportunities to engage with fellow professionals. Members will receive:
Access to the RightsTech blog (guest post)
Posting privileges in the RightsTech online forum
A member profile to appear on the RightsTech.com website and archived within the membership section
Invitations to all meetups and networking events
Advisory Board
An advisory board of members will provide advice and guidance on the overall strategic direction of the RightsTech Project, help develop conference programs and thought-leadership initiatives (see below), and assist in outreach to new members.
Events
The RightsTech Project will host open industry events throughout the year, including RightsTech@DEW, the annual RightsTech Summit, and the RightsTech Policy conference. It will also seek opportunities to partner with other organizations and event producers on more targeted events.
Access to a special, members-only early-bird registration price to all events
Discounts on all event sponsorship packages*
Preference in speaking slots (over non-members)
Inclusion in event programs and other materials
Marketing Services
The RightsTech Project will offer members access to the extensive B2B marketing capabilities of its parent companies, Digital Media Wire and Concurrent Media Strategies, as well as its own internal resources. Our unparalleled mailing lists reach more than 40,000 media and technology industry executives, as well as policy makers and professionals, brand marketers, and members of the press.
Discounted access to:

Additional email blasts
Webinar production and marketing
Curated dinners
Sponsored articles on RTP, DMW and CM websites and newsletters
On-site and in-newsletter advertising
Thought Leadership
The RightsTech Project will support members' thought-leadership initiatives by making available our staff's more-than 50 years of combined experience as media industry analysts, journalists, and publishers to execute and help market white papers and custom research reports. In addition, we will undertake our own thought-leadership initiatives through the RightsTech Ideas Forum, which will seek to leverage members' expertise to produce reports, compendia and seminars on big-picture industry and public policy issues.

Four Ways to Join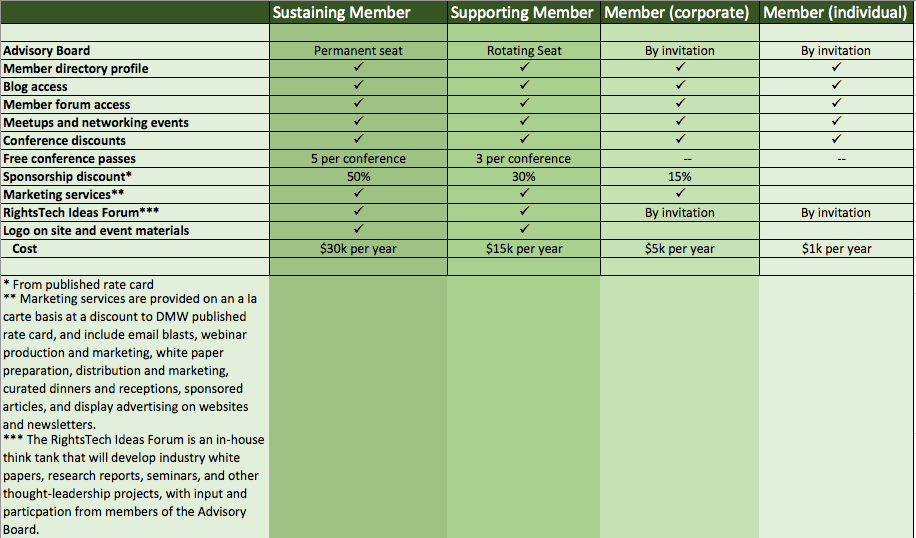 Join Today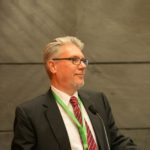 For more information or to inquire about membership please contact Paul Sweeting
paul@concurrentmedia.com
(202) 506-4452.