February 5-6, 2018| RightsTech @ Digital Entertainment World| www.dewexpo.com
Digital Entertainment World is the must attend B2B event and marketplace for global media and technology executives to evaluate the digital media landscape. This year's event will include a full, two-day track of panels, technology demos and keynotes presented by the RightsTech Project, covering media metadata, asset identifiers, blockchain technology, licensing, remixes, and more.
October 5, 2018|RightsTech Summit| www.rightstechsummit.com
The first annual RightsTech Summit, held in 2016, drew 100 senior senior executives from the music, film, television, publishing, visual arts, and technology industries for a first of its kind, cross-media gathering focused on technology innovation in media rights management across all media industry sectors. For 2017 the Summit will expand to a larger venue and include a technology showcase to accommodate the expanding rights-tech ecosystem.
Past Events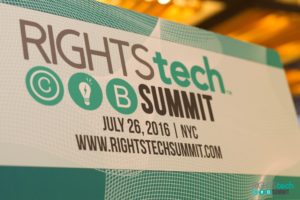 Keynote: Q&A With PledgeMusic Chief Strategy Officer and DotBlockchainMusic Founder Benji Rogers
INTERVIEWER: Robert Levine, author of "Free Ride" and former executive editor of Billboard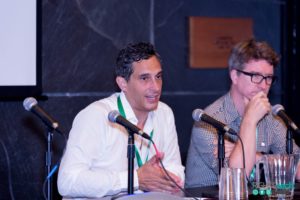 Restoring Registration to the RightsTech Equation
PANELISTS: Robert Norton, CEO, Verisart; Kevin McCoy, CEO, Monegraph; Greg McMullen, Director, IPDB Foundation; Paul Jessop, Founder & Director, County Analytics Ltd; Moderator: Larry Miller, Clinical Associate Professor & Director, Music Business Program, NYU Steinhardt.
Machine-Readable Rights
PANELISTS: David Hughes, CTO, RIAA; Bill Wilson, Vice President of Digital Strategy, Music Business Association; Karl Floersch, Lead Developer, Ujo Music; Henrik de Gyor, Chief Consultant, Another DAM Consultancy; Luis Bonilla, Director of Distribution Services, SoundExchange; Moderator: Cortney Harding, President, Cortney Harding Consulting.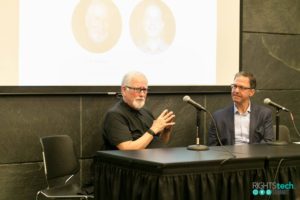 Keynote: Q&A With Songwriter and Former Label and ASCAP executive Tim DuBois
INTERVIEWER: Jon Potter, principal, RPG Strategies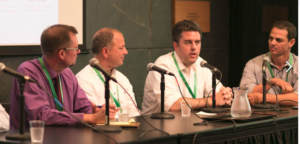 The RightsTech Technology Stack
PANELISTS: Greg Pizzuti, Global Director of Cognitive Solutions – Media & Entertainment Industry, IBM; Andres Gebhard, Head of Global Programming, Getty Images; Jason Kassin, Founder & CEO, FilmTracks; Scott Moore, Director, Content Systems Architecture, Discovery Communications, LLC; Moderator: Edward Klaris, Managing Partner, Klaris IP, LLC.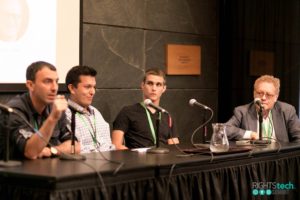 Cryptocurrencies, Sidechains and Fiat Portals
PANELISTS: Cedric Cobban, Co-Founder, PeerTracks; Adi Chikara, Solutions Management, 3Pillar Global; Steven Nerayoff, Founder & CEO, Maple Ventures; Moderator: Michael Terpin, CEO, Transform Group.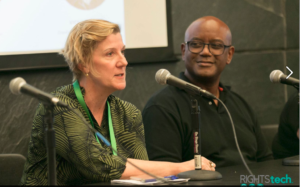 RightsTech in the Enterprise
PANELISTS: Bill Colitre, VP & General Counsel, MusicReports; Kristin Kliemann, Formerly Wiley & Sons; Sam Gilchrist, CEO, PluraVida; Alisa Coleman, COO, ABKCO Music & Records; Chris Reed, Strategic Advisor, Orangenius; Moderator: Vickie Nauman, Founder, CrossBorderWorks.