February 1-2, 2017| RightsTech @ Digital Entertainment World| www.dewexpo.com
Digital Entertainment World is the must attend B2B event and marketplace for global media and technology executives to evaluate the digital media landscape. This year's event will include a full, two-day track of panels, technology demos and keynotes presented by the RightsTech Project, covering media metadata, asset identifiers, blockchain technology, licensing, remixes, and more.
April, 2017| RightsTech Meetup @ NAB| www.nabshow.com (Tentative)
The RightsTech Project is planning  to host a meetup at NAB for all those interested in how the TV and digital video industries are coping with new  rights-management and licensing practices in a multi-platform world.
September 27, 2017|RightsTech Summit| www.rightstechsummit.com
The first annual RightsTech Summit, held in 2016, drew 100 senior senior executives from the music, film, television, publishing, visual arts, and technology industries for a first of its kind, cross-media gathering focused on technology innovation in media rights management across all media industry sectors. For 2017 the Summit will expand to a larger venue and include a technology showcase to accommodate the expanding rights-tech ecosystem.
September 26-27, 2017| RightsTech Workshops @ The New York Media Festival| www.mefest.com
NYME's conferences bring together over 1,000 senior digital, games, music, television, advertising and video leaders, brands, investors and start-ups, providing a great opportunity for networking, deal-making and partnership building. Unlike larger trade shows, where it's easy to get lost in the crowd, NYME provides the ideal venue to make important announcements and standout among the influential in the industry. The RightsTech Project will host a hands-on workshops where rights-tech developers can showcase their latest innovations in the media capital of the world.
Past Events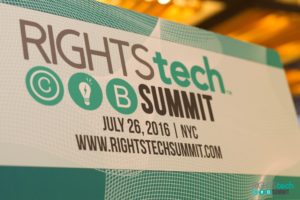 Keynote: Q&A With PledgeMusic Chief Strategy Officer and DotBlockchainMusic Founder Benji Rogers
INTERVIEWER: Robert Levine, author of "Free Ride" and former executive editor of Billboard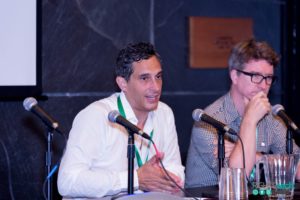 Restoring Registration to the RightsTech Equation
PANELISTS: Robert Norton, CEO, Verisart; Kevin McCoy, CEO, Monegraph; Greg McMullen, Director, IPDB Foundation; Paul Jessop, Founder & Director, County Analytics Ltd; Moderator: Larry Miller, Clinical Associate Professor & Director, Music Business Program, NYU Steinhardt.
Machine-Readable Rights
PANELISTS: David Hughes, CTO, RIAA; Bill Wilson, Vice President of Digital Strategy, Music Business Association; Karl Floersch, Lead Developer, Ujo Music; Henrik de Gyor, Chief Consultant, Another DAM Consultancy; Luis Bonilla, Director of Distribution Services, SoundExchange; Moderator: Cortney Harding, President, Cortney Harding Consulting.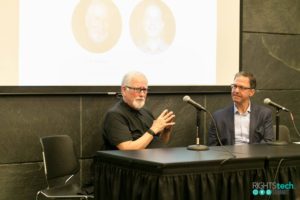 Keynote: Q&A With Songwriter and Former Label and ASCAP executive Tim DuBois
INTERVIEWER: Jon Potter, principal, RPG Strategies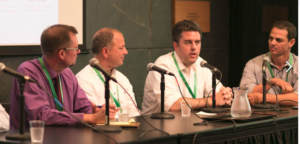 The RightsTech Technology Stack
PANELISTS: Greg Pizzuti, Global Director of Cognitive Solutions – Media & Entertainment Industry, IBM; Andres Gebhard, Head of Global Programming, Getty Images; Jason Kassin, Founder & CEO, FilmTracks; Scott Moore, Director, Content Systems Architecture, Discovery Communications, LLC; Moderator: Edward Klaris, Managing Partner, Klaris IP, LLC.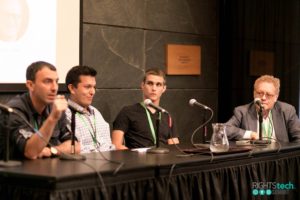 Cryptocurrencies, Sidechains and Fiat Portals
PANELISTS: Cedric Cobban, Co-Founder, PeerTracks; Adi Chikara, Solutions Management, 3Pillar Global; Steven Nerayoff, Founder & CEO, Maple Ventures; Moderator: Michael Terpin, CEO, Transform Group.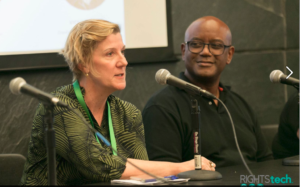 RightsTech in the Enterprise
PANELISTS: Bill Colitre, VP & General Counsel, MusicReports; Kristin Kliemann, Formerly Wiley & Sons; Sam Gilchrist, CEO, PluraVida; Alisa Coleman, COO, ABKCO Music & Records; Chris Reed, Strategic Advisor, Orangenius; Moderator: Vickie Nauman, Founder, CrossBorderWorks.